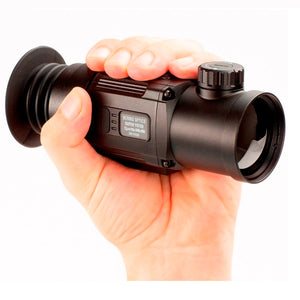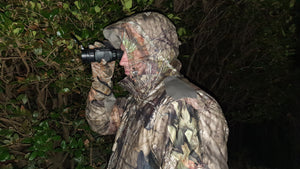 This Clip-On unit was installed on a demo rifle for a gun show.  It never experienced a shot. The unit was disinfected with alcohol and re-packed to the original box. It carries full 4-years warranty!!!

Open-Box SUPER YOTER-C is an Ultra-compact Long-Range Thermal Clip-On / 4.0x Thermal Spotter with 12 μm pitch, 640x480 resolution 50Hz refresh rate VOx core. 
4 year manufacturer's warranty
Compact & lightweight
Superior for coyotes and predator control at long distances
Detection range for human size figure up to 2500 yds
Optimal with 2.0x to 20.0x daytime optics
Can be clipped-on directly on a daytime scope with through-lever adapter (sold separately) or
Can be clipped on Picatinny rail in front of a daytime scope when equipped with Quick Release Mount & Light Suppressor kit (sold separately) or
Can be converted to 4.0x magnification handheld Thermal Spotter when coupled with the eye piece (included)
4-color switchable palette
Ability to adjust image on the screen Up-Down and Left-Righ with respect to the daytime optics reticle to achieve dead-on POI precision
Built-in electronic compass
Built-in Inclinometer with canting and Uphill / Downhill indicator
Built-in E-zoom
Selectable Auto or Manual thermal core calibration ("NUC")
High resolution 1280x960 Display
4-profile memory for zeroing calibration data 

allows using the Clip-On across 4 different rifles 

Precise manual front lens focusing mechanism
Click HERE for COMPLETE SPECIFICATION
IMPORTANT: There are two different mounting concepts for installing a Clip-On on your rifle. The same Clip-On may be installed using different mounting kits, either directly on a daytime scope or on Picatinny rail in front of a daytime scope. No mounting gear is included by default since it is specific to your rifle and/or to your daytime scope. YOU MUST CHOOSE THE CORRECT MOUNTING GEAR WHICH IS RIGHT FOR YOUR RIFLE. 
Click HERE to read about and choose an on-the-scope mounting adapter
Click HERE 

to read about and choose 

a Picatinny Quick Release Mount Kit  
You may also choose to purchase both mounting systems to be able to use SUPER YOTER С Clip-On across several rifles you own, because the Clip-On can remember up to 4 zeroing profiles for different rifles. 
NOT SURE WHICH MODEL TO CHOOSE OR CAN'T DECIDE BETWEEN A THERMAL SIGHT OR A THERMAL CLIP-ON ATTACHMENT?